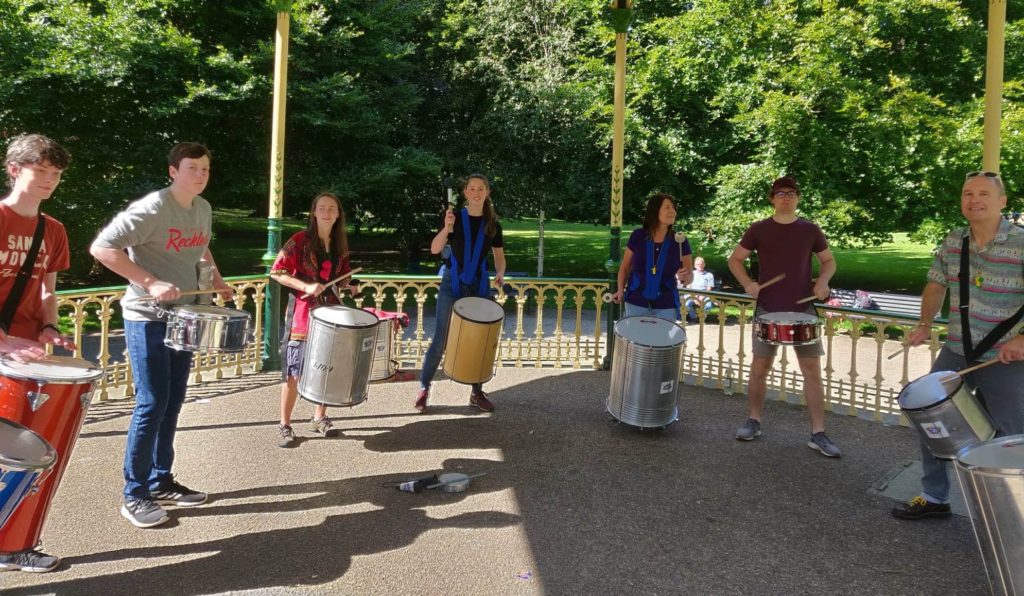 Abatida Da Rua
A community Brazillian drumming group for young people based in Hexham. Well known in Tynedale for their busking and entertainment at local events such as The Sele Bonfire Night, they attract attention with their Afro Brazilian Rhythms, bringing world beats and global influences to Tynedale.
Facebook Page:  https://www.facebook.com/ABatidaDaRua 
---
---
Alston Landscape Art Town Initiative (ALATI)
ALATI aims to stimulate and support development of Alston Moor as a national centre for landscape art and photography, to benefit its economy and environment and to support and encourage local and national artistic endeavour.
Website:     http://www.alati.org.uk
 Facebook Page: Alston Landscape Arts Town Initiative (ALATI)
Contacts    Kathy Reeds (Chair of ALATI)
Tel: 01434 321788/07958 046 259
---
Extinction Rebellion:
XRT email address: xrne.tynedale@protonmail.com
XRT Facebook page: https://www.facebook.com/groups/xrtynedale
XR UK home page: https://extinctionrebellion.uk/
Join XR UK: https://rebellion.earth/act-now/join-us/
---

Haltwhistle Film Project
Inspiring People and Communities Through Film-Including South Tyne Cinema Circuit, Visual Arts, Artists' Film, Theatre, Coding for Music and Visual Art, Artists
Web: http://haltwhistlefp.co.uk/
email: haltwhistlefp@gmail.com
Tel: 01434 320360
Address: Market Square, Main St., Haltwhistle, Northumberland, NE49 0BL
---
Haltwhistle Labour Party Branch
Haltwhistle Branch Labour Party is based in the ward boundary that incorporates: Haltwhistle, Halton-Lee-Gate, ParkVillage, Plenmellor, Coanwood, Featherstone, Lambley, Slaggyford and Eals.
Tel: Contact Branch Sec 07738034077
Email: haltwhistlelabourparty@gmail.com
---
Heat from Mine Water Project. Haltwhistle
Mine water could be used to decarbonise heat as low-carbon energy projects across the UK get underway to take advantage of abandoned pits – feasibility project to look at making considerable cost savings at Halthwhistle Swimming and Leisure Centre,
Led by Ewan Boyd of Teesdale Environmental Consultants,
e mail: teesenvironmental@btinternet.com
---
Hexham Community Centre
Facebook page: https://www.facebook.com/Communitycentrehexham.
A new website is in the making.
---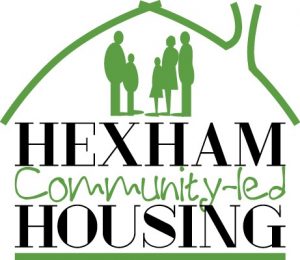 Hexham Community-Led Housing
Hexham Community-Led Housing (HCLH) is a not-for-profit organisation created by local people that aims to develop genuinely affordable housing in Hexham to benefit the town and its residents.
Website: https://hexhamhousing.co.uk
---

Hexham Debates
The Hexham Debates originated in a response by local people to Tony Blair's invitation to join in a national debate about the renewal of Trident in 2006. The first speaker was Bruce Kent, who spoke to over 200 people. The organising group of local Quakers and others realised that there was an appetite to hear from national experts on subjects relating to Justice, Peace and Democracy. The Debates have now completed 13 series. The last series was completed using Zoom, which opened up the possibility of speakers and audiences coming from elsewhere. Planning for the 14th series will start shortly. Video recordings of the Debates are available on the website.
Website: https://hexhamdebates.wordpress.com/
---
Hexham Living Wage Group
The groups aims:
To work towards Hexham being accredited by the Living Wage Foundation as a Real Living Wage Town
To achieve a decent standard of living for all Hexham based employees
To support local employers working towards the above goals
To contribute to the development of the local economy
Facebook Page: https//facebook.com/real-living-wage-hexham
---
Hexham Space for Nature
Our aim: To maximise the space for nature and the opportunities for wildlife in Hexham's parks, gardens and open spaces
We will do this by:
Working in partnership with grounds maintenance authorities (local authorities and private companies) to help them to create and manage wildlife habitat and adopt management practices which are wildlife and climate friendly.
Engaging local residents to grow support for these changes and to join us in creating and look after wildlife habitat in Hexham's open spaces and in their own gardens.
Email: hexhamnature@gmail.com,
Twitter: @HexhamNature
Sign up to our newsletter: http://eepurl.com/gF-lm1
---
Higher Ground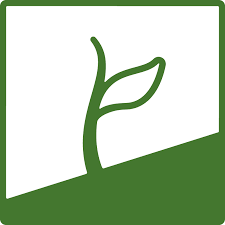 Higher Ground Allendale is a social enterprise that seeks to improve mental health and wellbeing through gardening. Our goal is to increase wellbeing and tackle social isolation by promoting meaningful activity, peer support and exercise in a safe, positive environment. We promote sustainability through cultivating and supplying locally grown organic produce, and our workshops help people learn new skills. We are based at the former Allendale First School, surrounded by stunning Northumbrian landscape.
Website: http://www.higher-ground.org.uk/
---
Justice & Peace Group at St Mary's Hexham
We exist to encourage commitment to action for Justice and Peace in light of the Gospel message and the teaching of the Catholic Church. We aim to raise awareness of and to address local, national and global injustice.
email: justiceandpeace@stmaryshexham.org.uk
---
Keep Our NHS Public North East
No cuts or cash-driven closures | Fair pay for all NHS staff | A fully-funded, universal, publicly owned and publicly provided National Health Service

---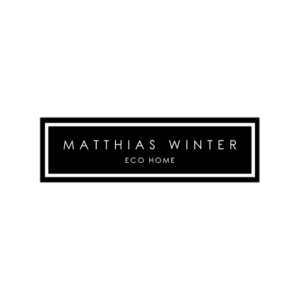 Matthias Winter is an eco home/gift shop in Hexham. The shop also sells refills of cleaning products and body care products and is a drop off point for the Hexham Fresh Food Bank. Crisp packets, biscuit wrappers, Pringles tubes and used stamps can also be dropped off to be sent away for recycling. A donation for every kilo of waste sent for recycling is made to Pennines Wildlife Rescue at Allenheads.
Location: 15 Hallstile Bank, Hexham
Website: www.matthiaswinter.co.uk
Email: info@matthiaswinter.co.uk
---
No.28 Community Project is run by Hexham Community Partnership in a small house in the centre of Hexham East housing estate Funded by Karbon Homes and the Ballinger Trust it's aims are to provide a safe- supporting environment where Hexham residents are provided with help to enable them to meet life's challenges; be more active members of the community; improve self-confidence and sense of achievement and acquire new skills to enhance employment prospects.
Facebook page: No.28 Community Project in Hexham
Website: www.hexhamcommunity.net
---
North East Bylines is a digital online newspaper for the North East of England. Our articles are written by volunteer citizen journalists, people just like you who want a more constructive and honest news source. We will be the voice of everyone living in the North East; people from all walks of life who may have lost faith in much of our mainstream media as a way of representing their views.
Website: https://northeastbylines.co.uk/
---
Nature's Living Room Facebook Page
---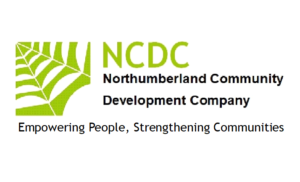 Northumberland Community Development Company (NCDC)
Supporting people who support communities throughout Northumberland CDC is committed to working within a nationally agreed definition of Community Development Work, which is based on the following values and practices:
Social JusticFairnes Environmental justice Equality and anti-discrimination
Collective action Working and learning together
Website: https://www.facebook.com/NorthumberlandCommunity/
Address: NCDC: High Ramshaw Farm: Coanwood: Haltwhistle:NE49 0PQ
Email: info@ncdc.org.uk
Tel: 01434320228
---

South Tyne Sustainability: Aims to reduce the impact of the community of Haltwhistle and surrounding villages on our environment. This will help individuals; families and our community save money and resources and ensure a more sustainable future for us all. To join STS
Contact: Sue Seymour: 016977 47359
Email: sue@mosspeteral.com
Web Site: https://southtynesustainability.org.uk/
---
QEHS Eco-Society
An enthusiastic student group from Queen Elizabeth High School in Hexham actively campaigning on Green issues, locally and globally with an emphasis on sustainability and reducing waste.
Website: www.qehs.net
Facebook page: https://www.facebook.com/QEHSHexham
---
QEHS Human Rights Group
A student group from Queen Elizabeth High School in Hexham campaigning for human rights. The group work closely with Amnesty International and other groups working for human rights including Students for a Free Tibet. Many of the students participate in the annual QEHS trip to Bylakuppe Tibetan Settlement in India which unfortunately was unable to take place this year due to Covid 19.
Website: www.qehs.net
Facebook page: https://www.facebook.com/QEHSHexham
---
Time For Change and TWC
As Earth Citizens Time for Change and The Warm Collective (TWC) address issues facing the people of Gambia, the UK and the world in a positive way, whilst developing connections between The Gambia and the people of Tynedale! Their music tells stories, unites people and supports practical changes to impact positively in a fun way, with lots of laughter!
Website: www.timeforchangefoundation.org.uk
Facebook Page: www.facebook.com/Time-for-Change-The-Gambia
---
Relevant other open resources
---
https://nutricologist.podbean.com/
A series of 'interviews' with animals giving their perspective on environmental matters.
---
The Hay festival – https://www.hayfestival.com/hayplayer/
Imagine the World – The Hay festival – #Imagine the World – moved online this year and the Hay player (£10 subscription) includes just about the full program of talks and author interviews. e.g. Steven Silberman's interview with the Dara McAnulty, a teenager on the autistic spectrum, whose book, Diary of a Young Naturalist, is an astonishing and beautiful work. Then there's Rutger Bregman, who last year took the elite at Davos to task over tax, talking about his new book Humankind which makes the case for the basic goodness of people. And Ester Duflo, co-author of Good Economics for Hard Times, who ended her interview by agreeing with Evan Davis that the majority of economists now sit politically to the left of centre.
---