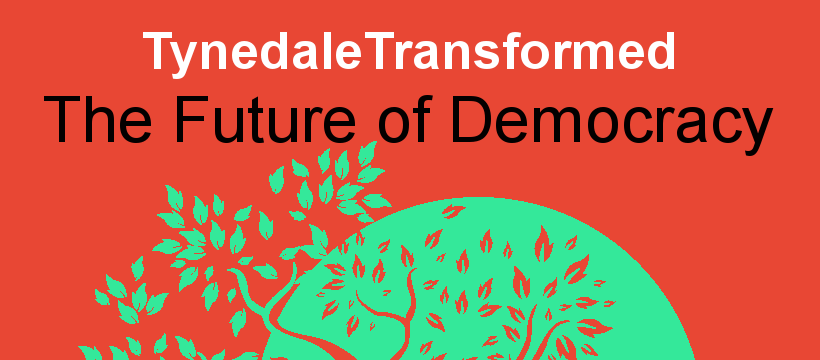 ---
NOTE OUR NEW SUMMER TIMINGS:
4.30: IN CONVERSATION. 6.30: PANEL DISCUSSION.
Democracy is currently under attack throughout the world but what do we mean by democracy and what form should it take? With a range of elections are taking place throughout the country on 6th May this Month's Second Sunday will consider The Future of Democracy.

Watch the Vimeo recording of The Hexham Debate: Democracy – fact or fiction? The upsides of down and opportunities in crisis. here
Peter MacFadyen, founder of Sustainable Frome and  a Director of Frome's Renewable Energy Co-op.
Peter MacFadyen  Gardener, social activist, grandfather and undertaker.
Peter is a founder of Sustainable Frome and  a Director of Frome's Renewable Energy Co-op. Through these he better understood both the missed opportunities and potential of local government, leading to his role in initiating Independents for Frome (IfF), the group of individuals whose take over of Frome Town Council is the focus of Flatpack Democracy. Peter chaired key committees and served as both mayor and leader of the council.  He did not stand again in May 2019, instead writing Flatpack Democracy 2.0 to complete the legacy of experience sharing.
4.30 – 5.30: In conversation with Chris Jackson considering the importance of local journalism to democracy.
"Chris presented the regional current affairs series Inside Out for ten years. He has been named Presenter of the Year three times by the North-east Royal Television Society. He is a passionate believer in local journalism and its importance in holding organisations and politicians to account, which is vital in preserving a healthy democracy."
Zoom link here
6.30 – 8.00 Panel discussion featuring regional and local responses to how democracy can work and what it mean; with representatives from The Peoples Assembly North East, Open Hexham and a county and parish council candidate.
Zoom link here
For Suggested Films see Resources Page for this month.

---
March 14th 2021 : The Future of the NHS
On March 14th we considered what can the pandemic could teach us about a good society, how the NHS brand and logo are being appropriated by private companies and considered the future of our NHS.
The full programme of events is available here
The Vimeo recording of the Hexham Debate featuring Helen Salisbury is available here.
A vimeo recording of the conversation with Jude Letham is available here.
A recording of the panel discussion with Jenny Firth-Cozens, Amanda Pickering and Lesley Duke is available here.
The documentary "Under The Knife", which is about the privatisation of the NHS by stealth and was produced by Pamela Kleinot and directed by Susan Steinberg is no longer available free.
Resources for the day available here
---
February 14th 2021 : "Our Climate Crisis"
Time to love the planet!
On February's Second Sunday we linked to a Vimeo broadcast of the Hexham Debate, "Climate Crisis: Young People's Perspectives on Their Future." we were in conversation with some climate activists and hosted a panel discussing the current situation and it's relevance in Tynedale. We had a live, keynote address by Dr Alan Whitehead, shadow minister for Energy & Business and Minister for Labours Green Deal as well as excellent contributions from prominent regional and local people and a chance to question them about their work. There are still links to interesting resources, recordings and films.
The full programme is available here.
Resources available here
The Vimeo of the conversation with XR is available here
The Vimeo of the Climate Crisis Discussion is available here.
---
January 10th 2021: Happy New Year
Because of lockdown the Second Sunday on 10th January was entirely virtual. We shared our favourite pod-casts, articles and publications with you.
The subjects are wide ranging and, we hope, interesting. They are available via this link and are available now as part of the website resources.
---
December 13th 2020: A Community Christmas
We learned about making our winter festivities fairer and more sustainable whilst having fun. We looked at what's happening around our region, how our communities are supporting each other and sharing the seasonal cheer.
The programme is here
The "Make it Christmas" resources are here
The Journey through Tynedale is here
Watch the zoom discussion about the role of community at Christmas on Vimeo here
Watch our Christmas Party on Vimeo here
Download an A4 poster here
---
November 8th 2020: WHERE DO WE BUY WHAT WE NEED IF THE SHOPS SHUT DOWN?
The programme is here
The resources are here
A chance to watch the events of the day, including recordings of the zoom events here.
---
October 2020: TT2020: Our Launch Festival.
The programme of the day is here
To watch the zoom events of TT20 see the TT20 revisited page.
The resources are here.