On Sunday 11th at 11.am Tynedale Transformed started a series of events which will run to the end of the year under the title
Building Shared Futures.
The launch started with the "Read All about it" group reading of an article about the Preston Model with a discussion on how it could be applied to Tynedale.
Things are going to get tough for local communities and we all need to think of different ways of stimulating our local economies and building resilience. There are some really interesting and successful models that we could apply here.
Building Shared Futures will involve Tynedale communities in collecting stories and case studies of local community wealth building with the intention of devising a local model with our market towns parishes  communities, businesses, services  and individuals  to dream  how we can better  decide, revive, thrive,  and drive our ….
local social capital,
local economy
ecological capital
to build a better tomorrow in Tynedale.
The Second Sundays 2021: Sunday11th July 2021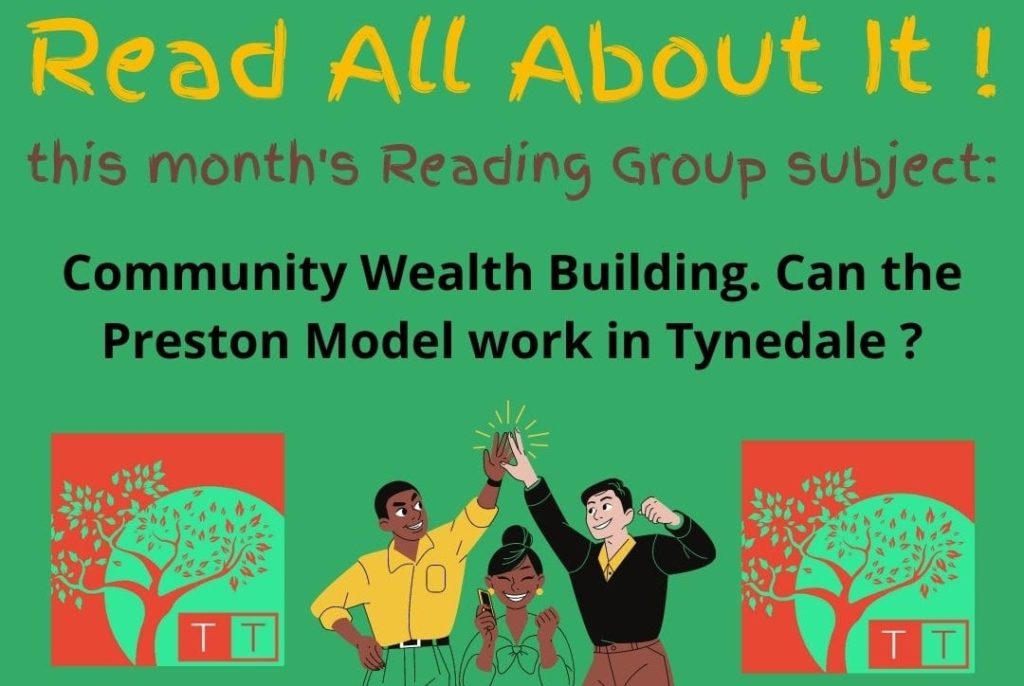 ---
---
Tynedale Transformed is about re-imagining a fairer and sustainable future and making it happen.
Tynedale Transformed is about pushing the boundaries of what political participation looks like. Strategy games, treasure hunts, reading groups, and theatre workshops, talks, events, walks, lectures…. anything is possible. TT will be based on inclusivity and a shared wish to examine the issues facing our communities and our world, encouraging a politics based on creativity, open mindedness and comradeship. We want to transform the way we live together. We want to start the conversation.
Our aim is to draw on existing networks and connections, locally, regionally and nationally as well as providing a platform for new ideas new groups and individuals.
Tynedale Transformed 2020
We've made a start at Tynedale Transformed 2020
We are continuing with Second Sundays.

TT20 was a festival of ideas. Imagining radical change and planning how to make it happen. It's about doing it together. We platformed local, regional, national and international voices to help tackle issues that affect us all here in Tynedale.
Second Sundays will feature events, workshops, virtual content and a panel discussion.
Post Covid19, What do we want our world to look like?
We've begun to shape the vision – the plan is forming and we're all involved.