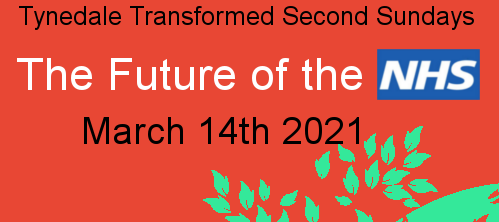 Resources recommended by our panel:
Jenny Firth-Cozens
Application form to join the governors. This is also available lower down this page.

Lesley Duke:
Build Back Fairer: The COVID-19 Marmot Review – IHE
http://www.instituteofhealthequity.org/about-our-work/latest-updates-from-the-institute/build-back-fairer
---
Web sites:
Keep our NHS Public North East: https://konpnortheast.com
NHS Patients: https://www.patients4nhs.org.uk/
Northumbria NHS Trust:
The link to join is https://www.northumbria.nhs.uk/get-involved/join-our-ourfoundation-trust/become-a-member/member-application-form/
UNISON Public Health workers' union:
https://www.unison.org.uk/search/NHS/
Govt. NHS Commissioning:
https://www.gov.uk/government/organisations/nhs-commissioning-board
Trade Union Campaigns:
Trade Union Congress: https://www.tuc.org.uk/WinningaPayRise
The Hexham Debates: https://hexhamdebates.wordpress.com/
Documents
https://konpnortheast.files.wordpress.com/2020/07/hct-konp-2020-rescue-plan.pdf
https://konpnortheast.files.wordpress.com/2017/01/nhs_campaign_guide_2013.pdf
https://konpnortheast.files.wordpress.com/2017/01/keep-our-nhs-publicmyth-buster.pdf
https://weownit.org.uk/sites/default/files/attachments/Privatised%20and%20Unprepared%20-%20The%20NHS%20Supply%20Chain%20Final.pdf
https://www.kingsfund.org.uk/publications/community-health-servicesexplained
https://publichealthmatters.blog.gov.uk/2020/06/01/the-communityresponse-to-coronavirus-covid-19/
Documentaries/ Videos
 The Great NHS Heist (Drew McFadyen and Bob Gill, 2019)
 Groundswell: The Grassroots Battle for the NHS – A Battle for Democracy (John Furse, 2020)
 Videos
 Harsh truths about the NHS (Bob Gill) (12 mins)
 The real cost of living (Save Our NHS) (3 minutes)
 Our NHS – Hanging on a Thread (38 degrees, 2016)
 filmed in the North East (10 minutes)
 TED talk – Privatisation of the NHS (Allyson Pollock, 2014) (18 mins)
TED Talks
https://www.ted.com/search?page=4&q=public+health
Taking control of community Health
Rally your community to a healthier and happier way of life with these aspirational, yet accessible talks (that also offer some great ideas on where to start). Curated by TED · 6 talks
http://www.ted.com/playlists/how_to_mobilize_healthier_communities
Your health depends on where you live
Where you live: It impacts your health as much as diet and genes do, but it'snot part of your medical records. At TEDMED, Bill Davenhall shows howoverlooked government geo-data (from local heart-attack rates to toxic dumpsite info) can mesh with mobile GPS apps to keep doctors in the loop. Call it "geo-medicine.
" https://www.ted.com/talks/bill_davenhall_your_health_depends_on_where_you_live
Articles:
https://www.theguardian.com/commentisfree/2021/feb/12/health-serviceshakeup-experts-view-conservatives-2012-nhs-reforms-doctors
https://recruiters.theguardian.com/blog/future-of-nhs-what-key-issues