---
Download the audio tour to your phone or device.
Click on the three little dots at the end to find the download symbol.
You can also hear it on SoundCloud: search for "The Trouble with Hexham" or click here https://soundcloud.com/user-588522719/the-trouble-with-hexham-audio-tour
---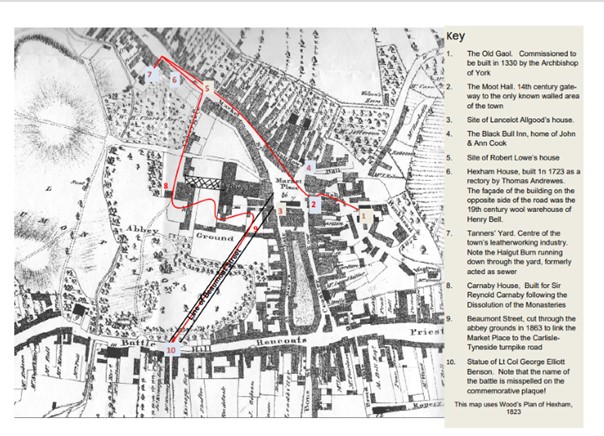 ---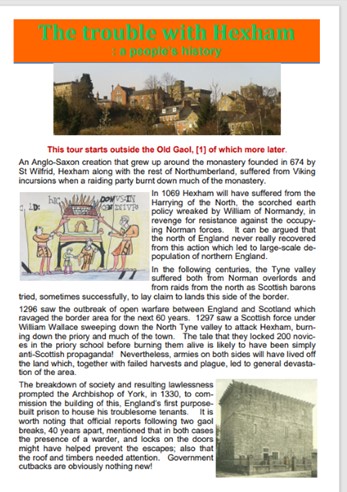 Leaflet and map: This is a print version of the audio tour.
Note that the booklet is set to print out on to A4 paper as a double sided booklet and an A4 map. Please check that your printer is set to print both sides of the paper and "flip on the short side", then collect the pages, remove the map and fold in half
---
Bibliography:
All except Burnet are available from Hexham Local History Society at https://www.hexhamhistorian.org/new-bookshop/
Burnet, Regula. Ann Cook and friend (Oxford UP, 1936)
Corfe, Tom et al. Hexham lives. (Hexham Local History Society, 2006)
Corfe, Tom Riot!: the Hexham Militia Riot, 1761 (Hexham Community Partnership, 2004)
Jennings, David et al. The Heart of All England: Hexham's story in original documents (Hexham Local History Society, 2005)
Dirty old town: the 1853 Rawlinson report into the sanitary condition of Hexham (Hexham Local History Society, 2015)
Slavery connections database https://www.ucl.ac.uk/lbs/
What details are known of Frederick Douglass's visits to Hexham can be found on the Hexham Against Racism Facebook page https://www.facebook.com/groups/hexhamar
A Radical History Tour of Hexham. Ever wondered what really happened in the market place? What has cookery got to do with class and religion? Who owned slaves and why did Oswald Mosley visit Hexham? Mark Benjamin and Vic Gammon will tell you and then you can listen to the tour yourselves. Hexham will never be the same again!
Here is the introductory Zoom presentation from the TT20 festival. Further down the page you can download the full audio tour, the same tour in print form and a map of the route.